News
2010-03-28
EAGLES & YORKIES.......................
We have another story below regarding the Eagles in the Botanical Gardens Ruimsig/West Rand, their interest in yorkies..... and some pics as well.
THE BEELD NEWSPAPER AND DIE BURGER
English report below the afrikaans report
Thank you Corlia for sending in this info, Thank you Jitka for sending in the English version.
Max die Yorkie byna dood ná arend hom gryp
2010-03-14 22:31
Erika Ferreira
Patensie. – 'n Yorkshire-terriër is die naweek deur 'n breëkop-arend gevang.

Die arend se kloue het die hondjie se longe deurboor voordat hy hom laat val het.

Max (6) het by die dood omgedraai en was gistermiddag ná 'n operasie stabiel.

Hy en sy eienaar, me. Ellen Pike van Bloemfontein, het by mnr. Philip Fourie van die wildplaas Tuinskloof in die Patensie-distrik gekuier.

Sy en Fourie se seun, Philip jr., het eergisteroggend met 'n motorfiets na beeste gaan kyk toe hulle langs die pad op Max afkom en sien hoe 'n groot breëkoparend van hom af wegvlieg.

"Ons neem aan die arend het Max van die stoep af gegryp en toe hier onder langs die grond-pad laat val, want daar was
geen spoor of merk rondom hom nie," sê Pike.

"Dit was verskriklik traumaties. Max was bewusteloos en het geroggel en swaar asemgehaal.

"Ek was buite myself. Hy is soos my kind," het Pike gister gesê.

Max is dadelik na die veearts op Humansdorp geneem waar hy later geopereer is.

Daar was 'n 2 cm lange skeur baie na aan sy hart en sy longe het platgeval.

Teen gistermiddag was hy stabiel, maar sy longe moes steeds gedreineer word.

Volgens Fourie is daar baie breëkoparende op sy plaas en hulle vang lammers en ook klein rooibokke en springbokke.

"Die breëkoparend is die grootste arend in Afrika en het 'n vlerkspanning van tot 2,9 m.

Pike het gesê die arend moes gedink het "my Max is 'n dassie of iets".
Eagle mistakes Yorkie for dassie
Erika Ferreira, Die Burger
Patensie - A Yorkshire terrier from the Free State nearly died at the weekend when he was snatched by a martial eagle, only to be dropped onto a gravel road, breaking his ribs.

The eagle's claws also punctured the dog's lungs.

Max, a 6-year-old Yorkie, and his owner, Ellen Pike from Bloemfontein, were visiting Philip Fourie at the Tuinskloof game farm in the Patensie district, when the eagle snatched little Max on Saturday at about 11:30.

"We assume the eagle snatched Max from the stoep and then dropped him over there on the gravel road, because there were no tracks or marks around him," said Pike.

She and Fourie's son, Philip jnr, had gone to look at the cattle on a motorcycle when they discovered Max on the road. They also saw a large martial eagle flying away.

"It was terribly traumatic. Max was completely unconscious and was gurgling as he struggled to breathe.

"I was extremely upset. He's like a child to me."

Max was rushed to a veterinarian in Humansdorp, where he later had an operation. There was a 2cm tear very close to his heart and his lungs had collapsed.

By Sunday afternoon he was stable, but his lungs still needed draining.

According to Fourie, there are many martial eagles on his farm which have apparently killed lambs in the past.

"They also catch small impala and springbuck. The martial eagle is the largest eagle in Africa, with a wingspan of up to 2.9m."

According to Pike, the eagle must have thought Max was a dassie.

- Die Burger

Die beroemde 2 witkruis arende
Dankie vir die eposse. Hierdie storie is so ontstellend. Moet jou vertel -ek het eers in Ruimsig gewoon, naby die Botaniese tuine waar die "beroemde 2 witkruis arende" hoog by die kanse naby die waterval broei. Hulle word beskerm en die nes word opgepas. Die inwoners hier word gereeld in ons plaaslike koerant ingelig oor die broei paar se doen en late en vordering wanneer daar eiers uitgebroei word.Dit die enigste broei paar aan die Wesrand is wat opgeteken is.
Ons het hulle nooit gewaar nie. Toe ons vir Chloe en Kylie gekry het, het ons altyd buite op die gras met hulle gespeel, weet jy dit was ongelooflik,!!! binne 10 minute het ons die arende gewaar in die lug, hulle sou eers swart spikkels wees en dan skielik word hulle groter en groter en kring hoog in die lug bogkant ons omgewing. Hul vlerke is ongelooflik lank en wyd gesprei en hulle sweef lank aaneen sonder op hul vlerke te klap – hulle sal sirkels vir lang periodes bokant die kompleks sweef – baie hoog dat hulle klein word en dan skielik sak hulle in 'n oogwink sommer regbokant ons estates.
Op daardie stadium was Chloe en Kylie bitter klein hier by 12 wekies oud. Jy kan nie glo hoe vinnig daai arende in die lug verskyn nie. Ons het hulle net nooit alleen buite gelos nie. Ons kon net nie. Hier was ook al 'n storie van 'n wit maltese puppy wat deur hulle gegryp was. Ons senuwees was behoorlik gedaan.
Stephanie G.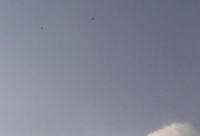 Baie mooilik om te sien, die swart spikkels, ons wag vir 'n paar ander foto's - Dankie Stephanie.....