News
2010-01-23
A TRUE STORY - Jessie the YORKIE rears orphan KITTENS......
A TRUE STORY---- JESSIE the YORKIE rears orphan newborn KITTENS
YORKIE rears Kittens……
Early February 2008, a friend of my sons, while working in his Companies storeroom. Moved a cardboard box to find some newly born kittens. He obviously monitored them most of the day, hoping the mother would return. However come home time no mother had returned, and of course, we got the call. Can we bring you some new born kittens?
Well what could we say? He arrived with a litter of four kittens, black ones, and black and white one's. I did the norm, got out the supplement feed, and as these babies were totally empty not having had Mommy around all day, I tube fed them every couple of hours till there empty little tummies, were once more round and full. One of my yorkies at the time, who had just had one baby, (that was at the age of running all over) took a great interest in them, and while I would syringe feed them, she would clean up the nappy department, once they were finished drinking she would wash their faces. I thought this is marvellous, how lucky can I get. She continued to show great interest, and did her best to get into the carrier with the babies in it. We had a warming pad for these kittens as being new born, and no mother, it was necessary.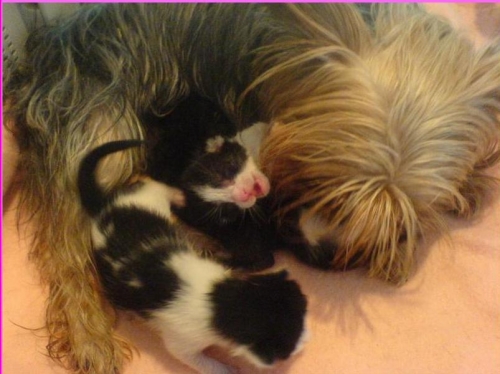 I thought I would offer Jessie a baby, she instantly lay down and encouraged the kitten to nurse. I could not believe this and I was concerned, as I believed dogs milk was nowhere near as strong as cats milk. Jessie however took over all four kittens. Amazing.
Two days later the one black kitten showed signs of having pneumonia, understandable as the mother was not there to keep them warm, the first day, not an easy thing to treat in a very young kitten, although it did see the vet and we tried but we just could not save it. the kitten died. The kittens fed very well and grew up and at five weeks of age, the one just did not look right. We were very surprised and took it and the other two to our vet. Two of the three remaining kittens had very bad deformities. Their little chests were totally abnormal. Sadly they were put to sleep, however Jessie carried on with the one remaining kitten, who we called Black Pearl, as she has a tiny spot of white on her chest. My granddaughter two years old at the time, adored this kitten and would carry her around in a babies blanket for hours on end. She called her Black ONE.
Black Pearl is still with us, two years of age next month. She has the most divine gentle nature, the pics attached are of her, the one with her and Santa.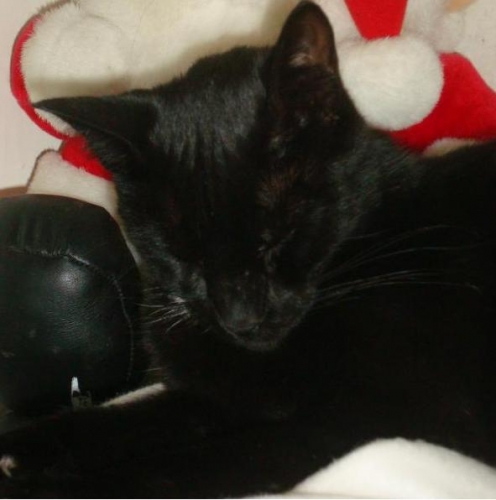 Black Pearl (Black one according to Rhaene) pic taken just before Christmas 2009.
We are not sure why the mother abandoned these kittens soon after birth. There is a very good chance she realised they were deformed, and left them to pass on, letting nature takes its course. Humans intervened, and at least, they did not die from hunger or neglect, but had the best care until they passed on.
Pics - taken 23 January 2010 Black Pearl... very dog orientated.