News
2015-10-27
Jumbalina returns update 27 October 2015
JUMBALINA RETURNS…
Hi to all you nature lovers out there. I am sure some of you remember JUMBO who became JUMBALINA as she matured and by her call we realised this was a female and not a male.
My granddaughter Rhaene rescued her, when we saw her on our driveway surrounded by three cats. She had obviously got lost from her Mom and other goslings.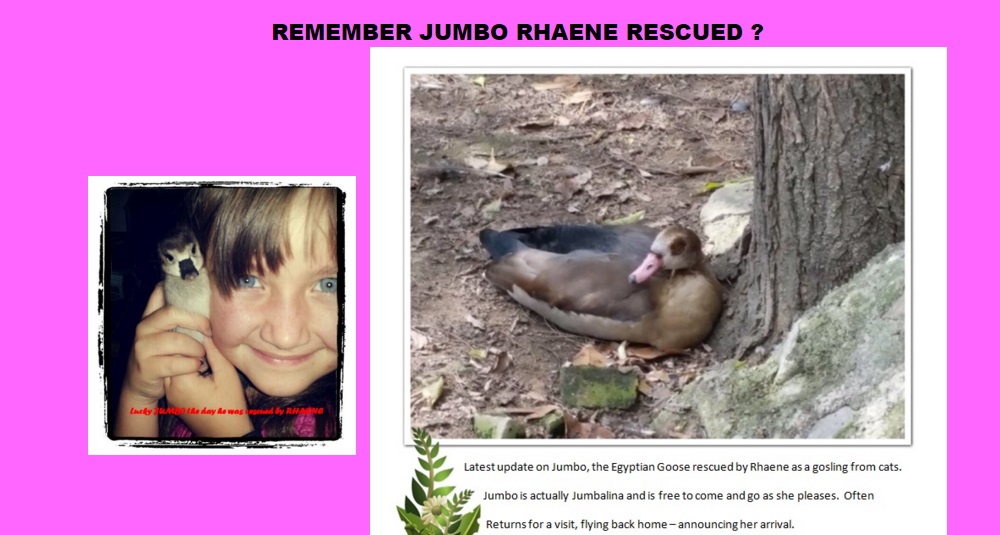 We raised her by purchasing two baby chicks and when they feathered up and grew up to teenagers, they were all released into our bird area.
A strong bond developed between Jumbalina and our other exotic ducks.
I did explain to Rhaene that there would come a time, Jumbalina would leave to go and find a mate and we would possibly never see her again. A hard pill to swallow for a little girl that had devoted so much effort and time into raising this goose.
As the months passed, Jumbalina started flying off regularly but would announce her arrival back home with her very loud calls. The time then arrived that she left, never to return. A very unhappy Rhaene would ask where is Jumbalina does she not know "I am her Mother."? The call of the wild was far greater than the love of a little girl.
2014 pics below JUMBALINA came back for a brief visit, only to leave just as quickly as she returned.
2014 pics below JUMBALINA came back for a brief visit, only to leave just as quickly as she returned.
Pics below taken in 2014 show the same red billed duck with her then that are in the current pics taken on the 25th October 2015.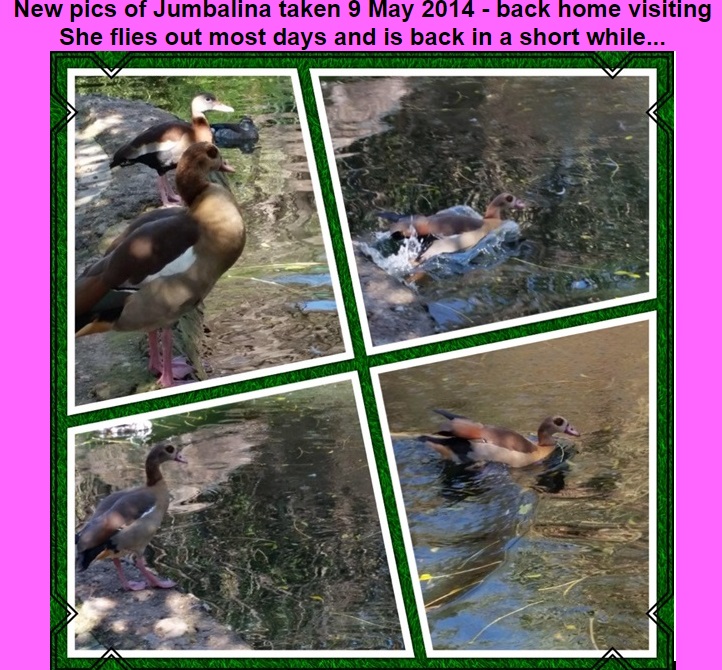 There are a good few of this type of goose in our area but they do not frequent our ponds they are often on my neighbours pond.
Saturday past my Hubby and I went down to feed in our bird area and was surprised to see who we believed to be Jumbalina on a back pond, when we went out to that area the bird did not fly off, so we presumed this had to be her. She came off the water to feed and stood very close to my Hubby which confirmed this had to be her.
Come the following morning, she was back on the big pond we have, with her mates and there was no doubt this was Jumbalina.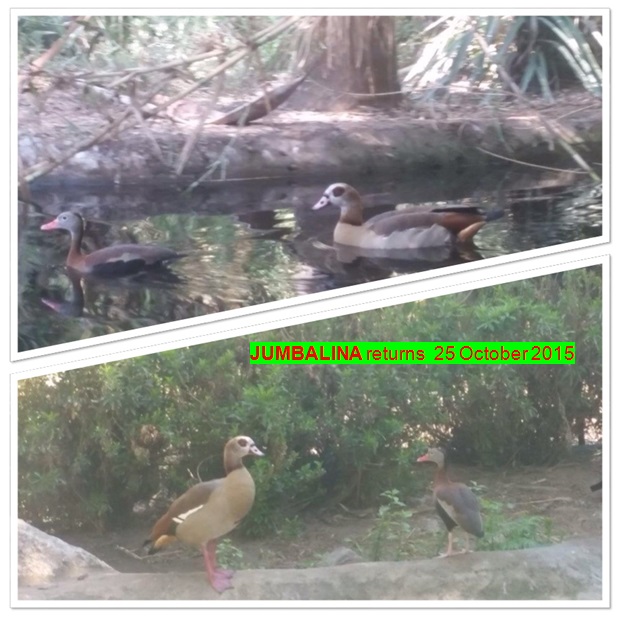 Pictured above with the same red billed duck she came to know from being a baby with us
JUMBALINA sharing a meal with a peacock.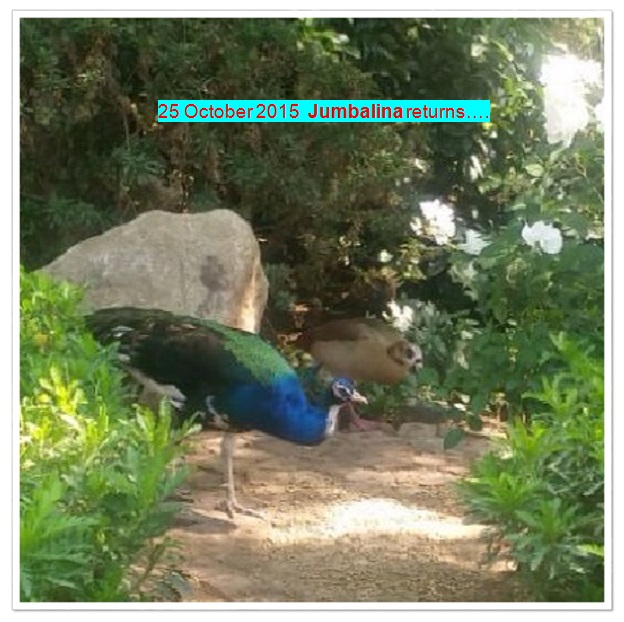 JUMABLINA standing beside me.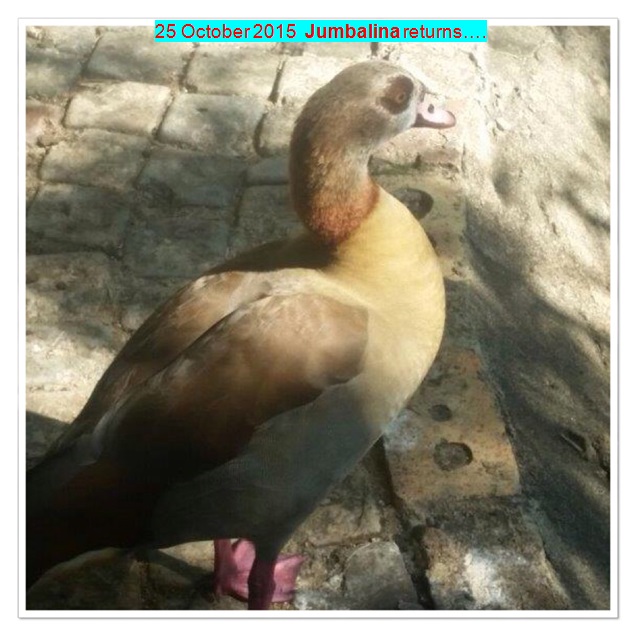 JUMBALINA clearly feeling AT HOME.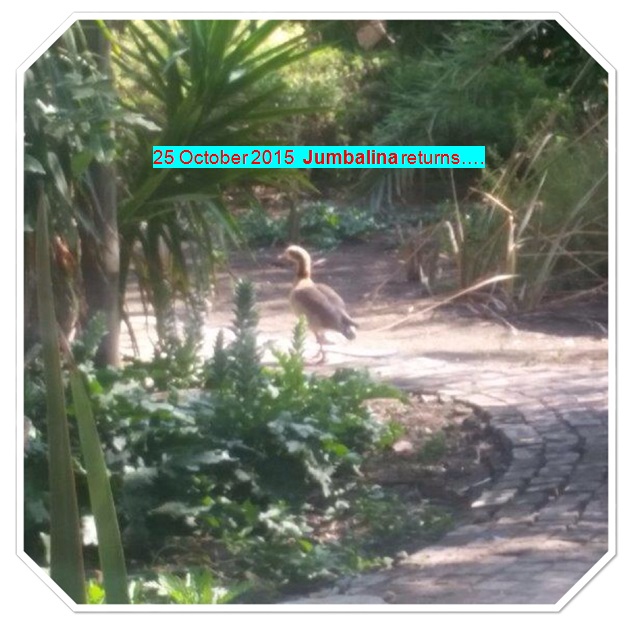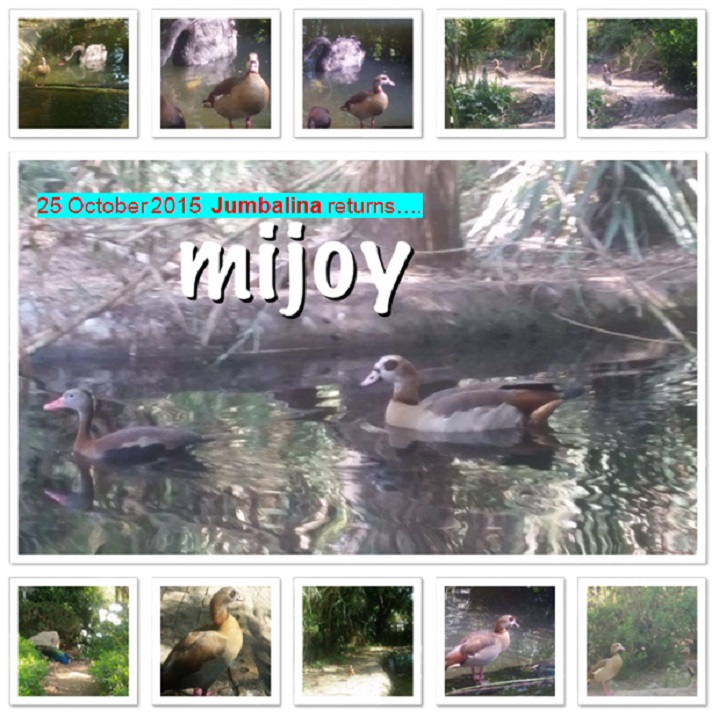 Jumbalina has flow off to return with two others, her offspring ? No Idea - but one is a female for sure, the other appears to be a male. Her mate? Time will tell if she entices her mate to take up residence here or not, or if she will once again leave us to go back to the wild.
A good few years back a wild pair raised their young on our property.
I hope for those of you who followed her story before, this has been a pleasurable walk down memory lane. It has been a blessing for us to have her in our lives to appreciate nature and to know she is one very balanced EGYTIAN GOOSE than can enjoy both worlds, with us and living out there in the wide open spaces.
Will she stay or will she leave? ONLY time will tell.
Rhaene will be back here on Friday afternoon after school and I sincerely hope she gets to say HELLO, to her precious goose JUMBALINA – if it happens, I will be sure and have my camera ready.